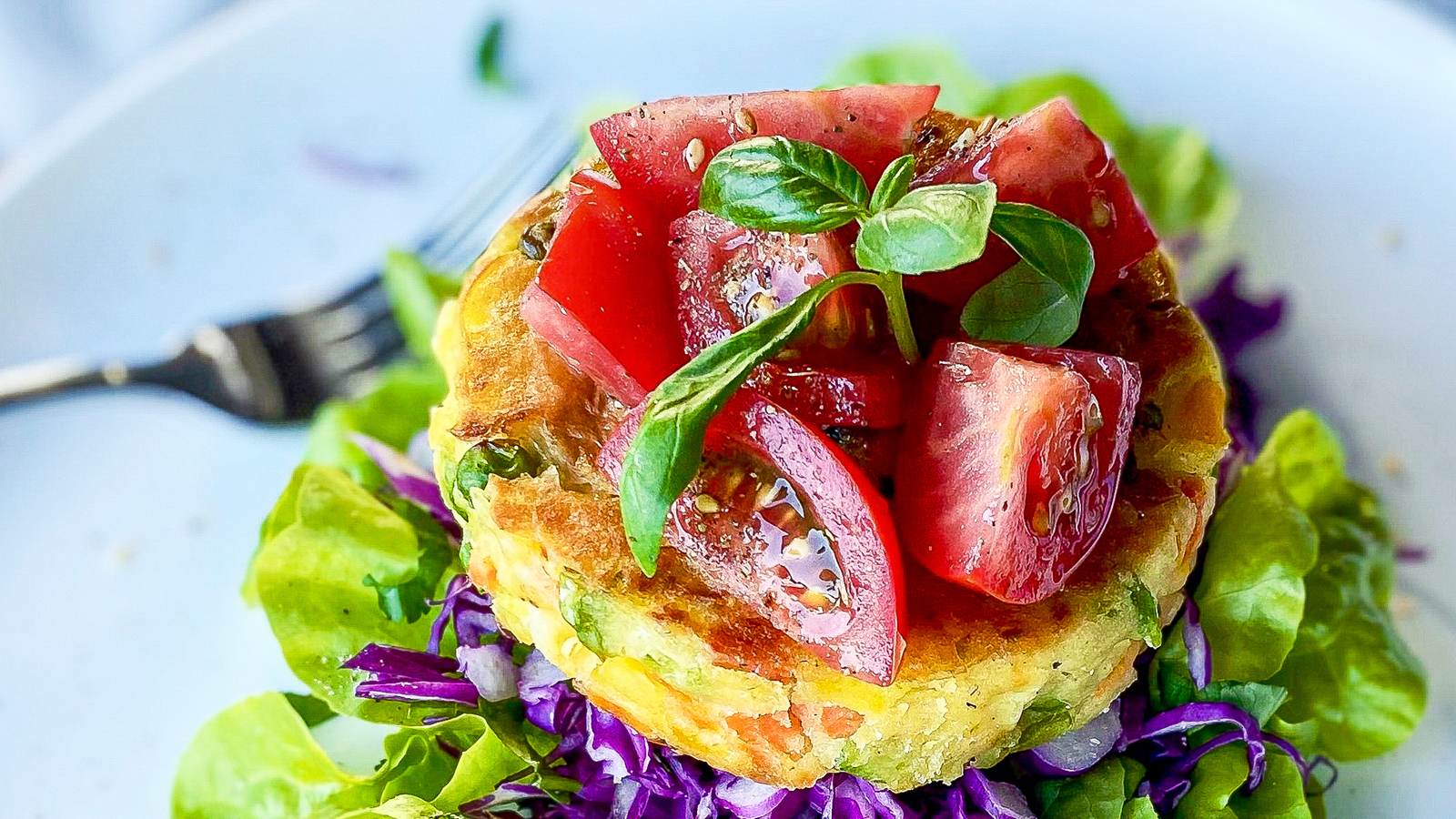 When you're too busy to make healthy food from scratch, quickly heat and serve our Classic Vegie burger and no-one will know the difference.
Made by blending a variety of wholesome vegetables with other real ingredients our Classic Vegie burger pattie is as close as you can get to home-made. Its hand-formed and pre-cooked ready to be reheated and served.
We don't add sugar, soy ingredients, preservatives, colourings, flavours, egg or meat and meat products. But, we do capture the true flavour of natural vegies in a way that even kids and dedicated meat-lovers will find delicious.
Our vegie burgers make it easy to regularly meet the recommended daily serve of vegetables, maintain a healthy weight, cater for vegetarians, participate in Meatless Monday, and transition to a plant-based diet which is healthier for you and our planet.
Product Information
1.5 serves of vegies
74% vegies
Source of protein (≥ 5 g/serve)
Good source of fibre (> 4 g/serve)
Low in fat (≤ 3 g/100 g)
Low in saturated fat (≤ 1.5 g/100 g)
Low in sugar (≤ 5.0 g/100 g)


Vegetables (74%), flour (wheat flour, raising agents (339, 341, 450,500)), vegetable oil (canola), salt, spice.
Contains wheat, gluten
May contain milk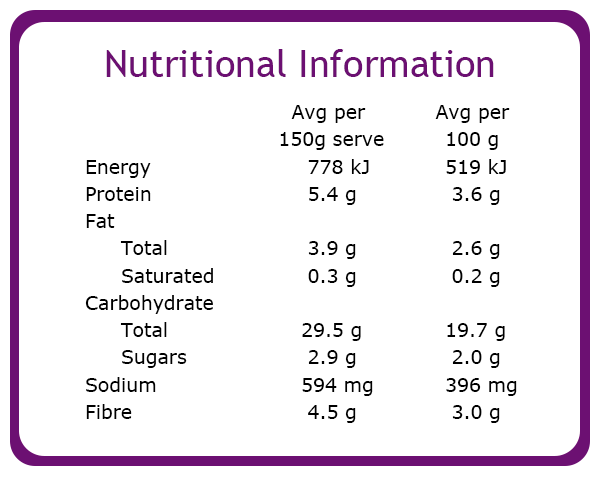 Sandwich press
Preheat sandwich press
Remove vegie pattie from refrigerator
Cook for 5-6 minutes
to Heat to 75 deg C
To To cook from frozen
allow 3-4 minutes more
Pan Fry or BBQ
Preheat pan or barbeque plate
Remove vegie pattie from refrigerator
Cook 5-7 minutes each side
to Cook to 75 deg C
To cook from frozen
allow 3-4 minutes more
Oven Bake
Preheat oven to 200 deg C
Remove vegie pattie from refrigerator
Cover vegie pattie with foil
Cook for 10-12 minutes

Microwave
Remove vegie pattie from refrigerator
Place in microwave container
Cover with wrap or container lid 2-3 minutes for 700W, 100% power
To cook from frozen allow 30-60 seconds more
Chickpea & Lentil burger patties
Love Indian food? Then you'll fall in love with this flavoursome homestyle vegan patty made from mild curry spices, chickpeas, lentils, and a wide range of veggies.
4 star health rating
vegan
Beetroot & Quinoa burger patties
A delicious beetroot patty with authentic beetroot flavour complemented by fresh herbs, spices. and quinoa. Pure veggie goodness.
4 star health rating
gluten-free, vegan
Gluten Free Vegie burger patties
A colourful fresh tasting gluten free vegetable burger patty we created in 2008 to make it easy to cater for everyone in the household.
4 star health rating
gluten-free, vegan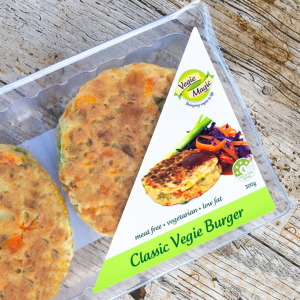 Independent Supermarkets – Delicatessens – Gourmet Butchers
Our products are available from many local independent retailers including IGA, Ritchies, Foodworks as well as speciality retailers including delis, butchers, and fresh food and vegetable stores. Check the chilled food or meat sections to find the tray packs of Vegie Magic burger patties.
Ask your local retailer where to find them or contact us to locate your nearest store.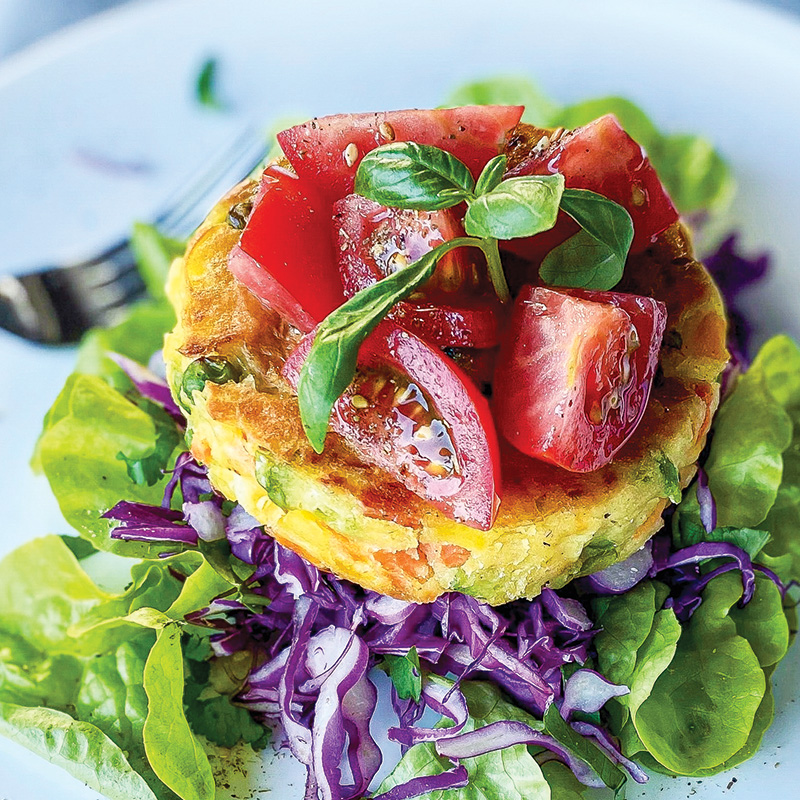 Foodservice Wholesalers and Distributors
Our extensive range of quick and easy to prepare foodservice and catering products are available from a network of Foodservice Wholesalers and Distributors Australia wide. View our foodservice page or request a catalogue to learn more.
Need assistance? Contact us for specific product information or assistance in sourcing them to expand your plant-based menu choices.
Share and tag our products on social media