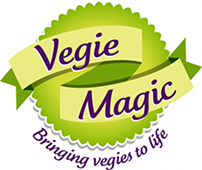 Vegie Combo Burger Pattie
Healthy, Quick & Delicious
Meat, Egg, Dairy Free - Vegan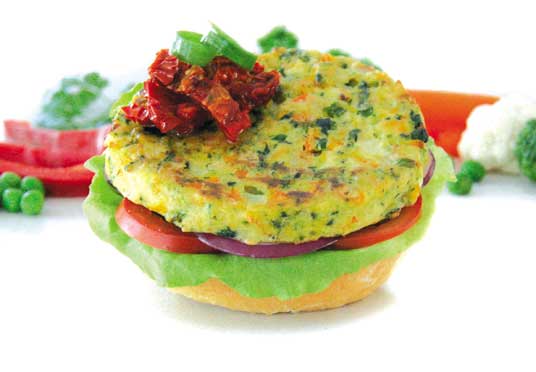 Our Vegie Combo burger pattie is filled with a medley of lightly seasoned choice vegetables to provide a colourful, fresh tasting and nutritious product.
With a 4.5 star health rating it provides a standard serve of vegies, is low in fat and saturated fat and is low in sugar (we don't add any). The product does not contain animal, egg, dairy or soy ingredients and we don't add preservatives, colourings or flavours.
What better way to enjoy eating the recommended daily serve of vegetables, maintain a healthy weight, cater for vegans and vegetarians, participate in Meatless Monday, and transition to a more sustainable plant-based diet.
Combine the Vegie Combo burger pattie with fresh salads and condiments in a bun or wrap. Top it with a small amount of their favourite foods to see children and meat-lovers enjoy their vegies!
Foodservice products
100g burger patties
1.1 serves of vegies
4.5-star health rating
81% vegies
4.3g protein
3.9g fibre
Low in fat (≤ 3 g/100 g)
Low in saturated fat (≤ 1.5 g/100 g)
Low in sugar (≤ 5.0 g/100 g)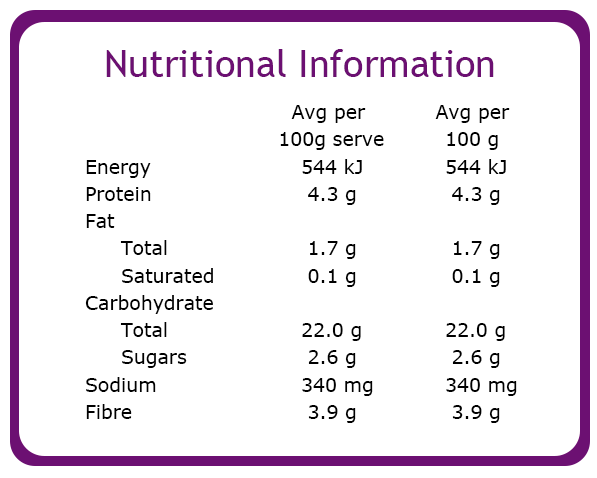 Nutritional information is for pre-cooked product as supplied.
Cooking methods may alter the final composition.

Meat, egg, dairy free - Vegan
Vegetables (81%) (potato, carrot, onion, pea, pumpkin, cabbage, spinach), flour (wheat flour, raising agents (339, 341, 450,500)), vegetable oil (canola), salt.
Contains wheat, gluten
Healthy Menu Choices – ready to heat and serve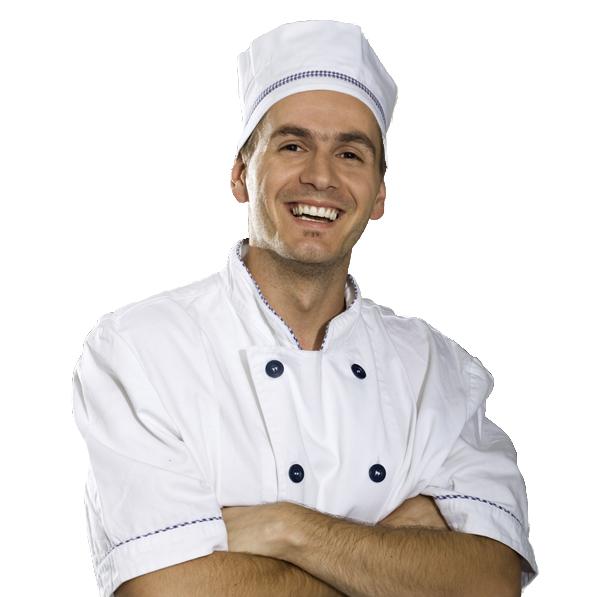 Foodservice – Hospitality – Catering – School Canteens
We've made it easier to add healthier food choices to your menus so you can cater for the growing number of people looking for healthy, vegetarian, vegan, meat, gluten and allergy free foods.
Choose from our wide range of delicious gourmet vegie burger patties and schnitzels or our unique range of vegetarian, vegan and gluten free sides and appetisers.
All products are meat, egg and dairy free and many are also gluten and soy free.
If you're looking for something special we have extensive experience customising products to suit specific menus, nutritional and brand requirements